~Please e-mail me if you would like your website link included here.~
ARBA- THE AMERICAN RABBIT BREEDERS ASSOCIATION- Great organization providing membership, support and information for all types of rabbit breeds.
BOVIDR NUTRITIONAL PRODUCTS- Offering nutritional supplements for all types of animals.NUTRI-DRENCH & NURTRI-DROPS enters the bloodstream in minutes to deliver nutrients directly into the body. Great for kindling does, chilled kits, stress related situations and for improving overall general health. We use the Nutri-drops and put it in the rabbits water and they enjoy the taste too. Great products!
RABBIT & CAVY DIRECTORY- LAREAU LOPS AND CAVIES
RABBIT MEDICINE CHEST- Awesome natural herbal products including Pro-biotics. They provide natural solutions for optimal rabbit health.
AMERICAN FUZZY LOP RABBIT CLUB- Specialty club dedicated to the perfection of the American Fuzzy Lop breed.Link to their website for membership information here.
HLRSC- HOLLAND LOP SPECIALTY CLUB. Another great breed specific club providing membership,support and information on the Holland lop breed.
EASTERN STATES FLEMISH GIANT RABBIT BREEDERS ASSOCIATION- Specialty club dedicated to the perfection and preservation of this well loved large breed. For membership info click on this link to e-mail Ann Bivins.
NATIONAL FEDERATION OF FLEMISH GIANT RABBIT BREEDERS, INC.- Great club dedicated to the perfection and preservation of this well loved large breed.
ISLAND GEMS- Informational and educational website dedicated to "all things rabbits"!
Bunny Rabbit. com- Suppliers of carriers,cage kits, wire, drop pans and all kinds of supplies for rabbits and rabbit health.
DaMars Equipment- Provides a great selection of rabbit equipment and supplies.
KW Cages- Provides cages ,cage making and rabbit supplies for the rabbitry
Rabbitstop.com- Full line of rabbit supplies for healthcare and maintance.
Bass Equipment Company- Complete line of rabbit and small animal equipment. Catalog available.
Evans Software- Great computer software programs for record keeping and maintanance of rabbitry's.
WE HAVE STARTED A YAHOO GROUP DEVOTED TO THE CHOCOLATE RABBITS OF ALL BREEDS... "FOR THE LOVE OF CHOCOLATE-BUNNIES" JOIN US!

BREEDERS
Amy' Rabbit Ranch- Located in Michigan, Amy raises and shows holland lops in rare colors. She also has some interesting information including a great color guide of holland lops.
Autumn Frost Holland Lops- Located in CT. they raise and show Holland Lops and Standard Poodles.
Backyard Bunny- Located in Arizona they raise Hollands,Lionheads and Fuzzy Lops.
BARN BUNNIES RABBITRY- Located in PA has quite the nice assortment of quality rabbit breeds!
BELLA BUNNIES & BUSTIN R BUNS- LOCATED IN NY; RAISING AND SHOWING JERSEY WOOLIES, HOLLAND LOPS,HIMI'S, HARLEY'S,DUTCH, FUZZY LOPS, SATINS AND LION HEADS.
BOULDER CREEK RABBITRY- Located in PA. Niki raises Holland Lops and soon will have Fuzzy Lops too! She has a very sweet tribute to Duckie their first born kit at their rabbitry...
Bunny Blossom Rabbitry- Located in Middleton Mass. they raise and show Holland Lops, Palaminos and Dutch.
BROWNS BIRDS & BUNNIES/ CASTLE GATE RABBITRY- located in PA.They raise quality Lion Heads and Velevteen Rabbits.
C & B Bunnies- Located in VA. raises Holland Lops; Specializing in steel's ,oranges & tricolors and otters.
CROSS CREEK RABBITRY- LOCATED IN BERLIN CT. SPECIALIZING IN CHINCHILLA AND STEEL COLORS IN HOLLAND LOPS.
Day's Runnin Tans- Sean Day raises,breeds and shows quality Tans( Blues,Blacks, Chocolates and Lilac's).Located in Mich.
EVER AFTER RABBITRY- Located In Southwstern PA. Kristen raises quality Lionheads.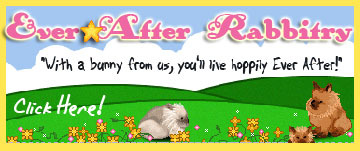 Fire Dove Rabbitry- Val specializes in BEW's and Tri colors. She raises Mini lops and some holland lops.She has been so helpful in helping us with information for our BEW project.. Thanks Val!
THE FLOP SHOP- Located in Buffalo NY. Cheri and her son Andy raise and show quality Holland Lops and also have been concentrating on BEW'S, Otters and Chocolates.Cheri has also been great helping us get our BEW holland project up and going...thanks Cheri!
FLUFFY MEADOW RABBITRY- Located in NY they raise quality Angora's,Holland and Fuzzy lops.
REDNECK'S RABBITS RABBITRY- Located In Bartlesville OK. They are a family run rabbitry raising qualtiy Lion Heads, Hollands and Netherland Dwarfs.
HALEY'S HEAVENLY HOLLANDS- Located in CT. they raise & Show quality Holland and Fuzzy Lops.
HARE'S FROM HEAVEN RABBITRY- Located In PA and raising/showing quality Lion Heads, Holland and Fuzzy lops.
HOP N TAILS RABBITRY is located in New Jersey. Ashley is a youth breeder raising and showing Holland Lops.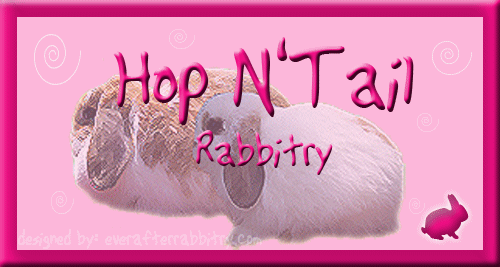 HOLLAND LOVE RABBITRY- Located in Northern NY, Brandi and family raise quality Holland lops.
Hip Hop Hollands and Mighty Roar Lionheads- Located in Western Mass. raising and showing Holland Lops and Lionheads.
IBERIA'S FLEMISH GIANTS- LOCATED IN MASS. RAISES AND SHOWS FLEMISH GIANTS.
Jenn's Jumpin Rabbitry is located in Buffalo NY they are a family run rabbitry raising and selling Lion Heads.
TRIPLE E RABBITRY Located in NY has quite a few breeds of quality.
White Clover Rabbitry Located In WI they offer Mini lops, English Lops, Hollands,Velveteen Lops, Lion Heads and Mini Rex.
WHITE HILLS HOLLANDS- Located in Shelton CT. Jen raises qualtiy Hollands and is currently working on Tri- colors.
Lazy Susan's Rabbitry- Located in Ohio, Susan raises and shows Holland lops and Netherland dwarfs.
LaReau Lops and Cavies- Located in southern Wisconsin, raising and showing French Lops, Holland Lops , Champagne D Argents and Cavies.
LEIGHTLY'S RABBITRY- Located in Pa and exclusivly raising quality Holland Lops.
Little Rebel's Rabbitry- Located in Ohio, they raise and show holland lops and other dwarf breeds.
Lop's R Us- Located in CT, Kim raises and shows Holland Lops
MANELY RABBITS- Located In B.C. Canada, Wendy raises quality Lion Heads, Netherland Dwarfs and Jersey Woolies.
MILE HI RABBITRY- Located in Southwest Ohio- Melanie raises and shows quality Fuzzy Lops and English Lops.
BOUNDIN BUNNIES IS LOCATED JUST OUTSIDE OF THE ALBANY NY AREA.THEY RAISE AND SHOW, ANGORA'S,HOLLAND AND FUZZY LOPS AS WELL AS FLEMISH GIANTS.
TIARA FARMS- Located in NE Ohio they raise and show Holland Lops, Netherland Dwarfs, Jersey Woolies and English lops.
NND HOLLANDS- Nihetta raises quality hollands in Mass.
Pine River Rabbitry- Located in Utopia, Ontario. They raise and show Holland Lops, Mini Lops and Polish breeds.
ROBIN'S BACK YARD BUNNIES- Located in PA.- Robin raises quality Lion heads and Fuzzy Lops.
Roseline Bunnies- Raises and shows Holland lops, Netherland Dwarfs, Jersey Woolies and Silver Fox.Located in Virginia.
RYANS WASCALLY WABBITS- Located in Ohio, Ryan raises,breeds and shows quality Fuzzy Lops.
RYAN SELLS FROM RYAN'S WASCALLY WABBITS HAS BEGUN TO PUT TOGETHER A GREAT COLOR GUIDE FOR FUZZY LOPS AND INCLUDES KIT AND ADULT COLORS.. VERY HELPFUL!
SAM'S CHOICE RABBITRY is located in VT. Soren and Carlos raise quality Holland and Fuzzy Lops as well as Mini-Rex.
Stonyledge Farm: Raises Holland Lops and Southdown Sheep.Located in Northwestern CT.
SUNNY OAKS RABBITS- LOCATED IN NY ,THEY RAISE AND SHOW GIANT FLEMISH.
WABBIT WORLD- Located in Bolivar PA. Raises hollands of color including BEW's.
WELSH RABBITRY ( "Welsh's Honeybuns") is located in Colorado and they raise quality lion heads, holland lops and Netherland dwarfs.This website also has alot of great info and sells rabbit supplies too.
WINDY HILL RABBITS located in NY they raise Netherland Dwarfs(including Bew's),Hollands,Flemish Giants and Mini Rex.
Please feel to contact us if you would like to exchange links/ banners!